"CANADA'S LARGEST TRAVELLING BARN DANCE"

The Official Site of

P. O. Box 68, Wingham, Ontario N0G 2W0
RECENT NEWS
Honouring a Piece of Wingham's Heritage
After giving so much to the town of Wingham [ON], country music pioneers Earl and Martha Heywood have been honoured in Cruickshank Park. The dedication of a red oak tree in the park was made following the Barndance Show at the Town Hall Heritage Theatre....A singer and songwriter, Earl Heywood has written close to 800 songs, his most famous ones being "Moonlight on the Manitoulin" and "The Donnelly Family Tragedy." Martha has always supported Earl's career and sang back-up on his music....Earl Heywood had previously been honoured in the Canadian Country Music Hall of Fame, and even been part of the Hank Snow Museum in Nova Scotia. The Heywoods also worked very hard to develop the Barndance Museum and Entertainment Society in Wingham.
Wingham Advance-Times Posted on Thursday October 27, 2005
(click here for pictures of the tribute to Earl & Martha)
Grand Finale at Country Heritage Park, Milton (Oct 2001)
The Barn Dance Master of Ceremonies, Jim Swan, has a special way of opening the Barn Dance shows to link them back to the style of the original Barn Dance live broadcasts. (Click here to see a video of the opening of the show pictured above)
Aims & Objectives of the Society:
To preserve the memory of the builders, the musicians and entertainers who were featured over the years on the CKNX Barn Dance, and on the radio and TV shows -- Serenade Ranch, Western Roundup, Circle 8 Ranch, Good Time Country and others, which were broadcast from the CKNX facilities over the years.
To establish and maintain a museum for the display of photos, artifacts and memorabilia relating to the builders, the musicians and entertainers from this area.
To support, in any possible way, new musical and entertainment talents in the area, particularly in the country music field.
Upcoming Events:
Date

Event Name

Place

More Info

8th Annual Blyth Campout Weekend

Blyth Recreation Complex & Campground

Rebroadcast of Barn Dance show from Heritage Theatre, taped April 24

7:00 pm CKNX radio, 920 AM

See above

Fiddle Convention & Jamboree

Royal Canadian Legion, Wingham

The Barn Dance Show &

Special Tribute to Earl & Martha Heywood

Heritage Theatre, Wingham Town Hall
Note: This site replaces www.barndance.ca but is still being developed. Keep watching for updates!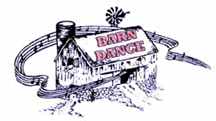 Contact webmaster