"CANADA'S LARGEST TRAVELLING BARN DANCE"

The Official Site of

P. O. Box 68, Wingham, Ontario N0G 2W0
A BRIEF HISTORY OF THE BARN DANCE
In February of 1926, the late W.T. "Doc" Cruickshank founded one of the earliest radio stations in Southwestern Ontario. The station consisted of a single tube transmitter that Doc had built in his mother's kitchen. The station was granted a licence to broadcast publicly on 920 kilocycles AM. CKNX Wingham soon became known and the Ontario Farm Station was born.
During the difficult economic times of the late 1920's and early '30's, Doc couldn't afford to buy enough broadcast recordings to fill his air time so he invited local talent to come to the studio and entertain on the air.
On a Saturday night in 1937, one of the station's announcers ran a program of recorded country music that he called the "CKNX Barn Dance". Doc liked what he heard and decided to turn it into a regular program utilizing live music. Crowds soon gathered on the street to watch the Saturday Night CKNX Barn Dance through the front window of the studio.
When it became apparent that the show was popular both at home and with the radio audience, Doc decided to take the show on the road. By utilizing long distance telephone lines, he was able to transmit the Barn Dance back to the studio and from there onto the air waves. By 1950 the program was a hit throughout all of Southwestern Ontario and had become known internationally as Canada's Largest Travelling Barn Dance.
The Barn Dance remained on the air for over 25 years and is recognized in the Canadian Encyclopedia of Music (University of Toronto) as the longest lived radio show of its kind in the history of Canadian Broadcasting.
The most successful production of the 1996 season at the Blyth Festival was the musical play "Barn Dance Live" which paid tribute to the Barn Dance and its early performances. The Production was again featured in 1997.
In December of 1996, a documentary of the Barn Dance was presented on CBC's Country Canada". Included were excerpts from the CKNX Saturday Night Travelling Barn Dance staged earlier at the Howick Community Centre. The Howick Anniversary show was a joint venture of CKNX and the Barn Dance Historical Foundation. Artists from the past and talented newcomers were featured. These and other performers will appear in Barn Dances to be presented throughout Southwestern Ontario. Watch for one near where you live.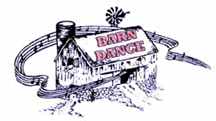 Contact webmaster